In Loving Memory of
Gwinn-Dell's Gabriel Egan
"Egan"
A Bridge Called Love
It takes us back to brighter years,
to happier sunlit days
and to precious moments
that will be with us always.
And these fond recollections
are treasured in the heart
to bring us always close to those
from whom we had to part.
There is a bridge of memories
from earth to Heaven above...
It keeps our dear ones near us
It's the bridge that we call love.
Egan was a tall houndy boy. He was a beautiful mover with effortless stride. He loved to work in obedience and was a fast, happy worker. Egan was gentle, loving, and eager to please. Pick male from Faolan's first litter, he made his show debut the day he turned 6 months old and as the youngest Hound puppy there, won a Hound Group 1st in the Puppy Hound Group. Egan worked as one of my demo dogs for my obedience classes. Whenever a youngster needed a dog to train, Egan was there, ready to work.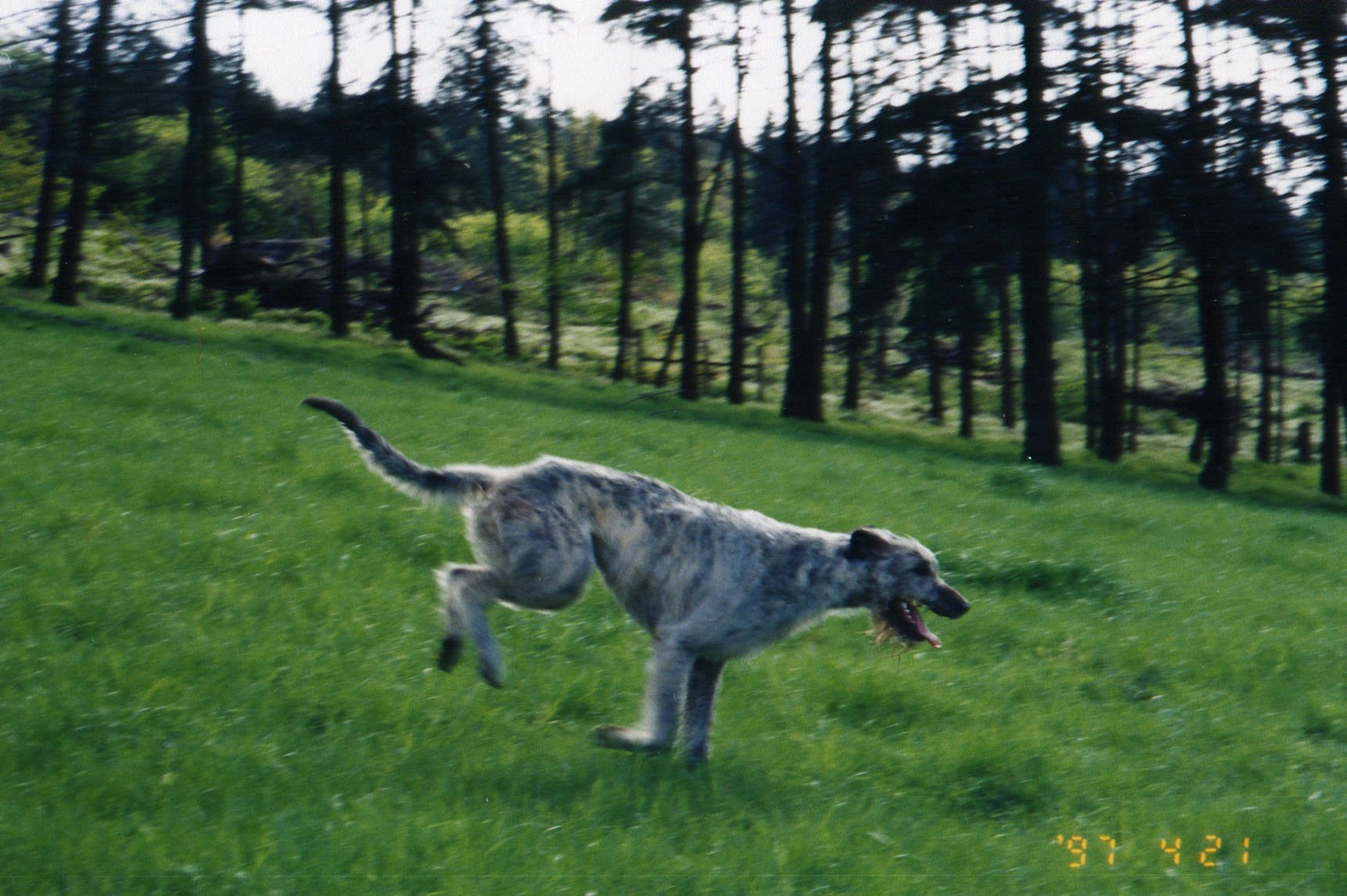 Egan Frolicking on Our Hill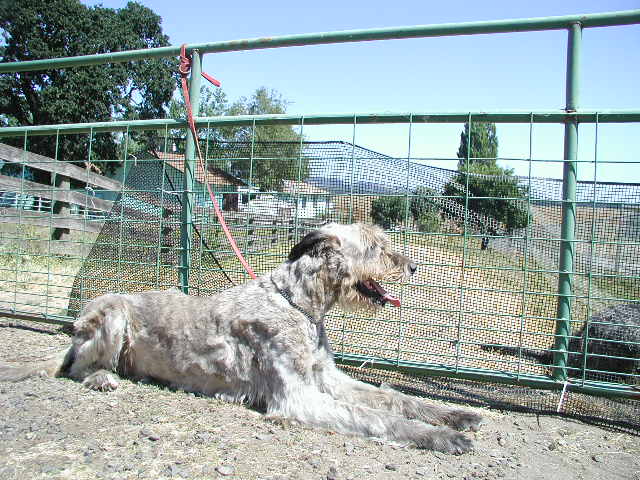 Summer 2004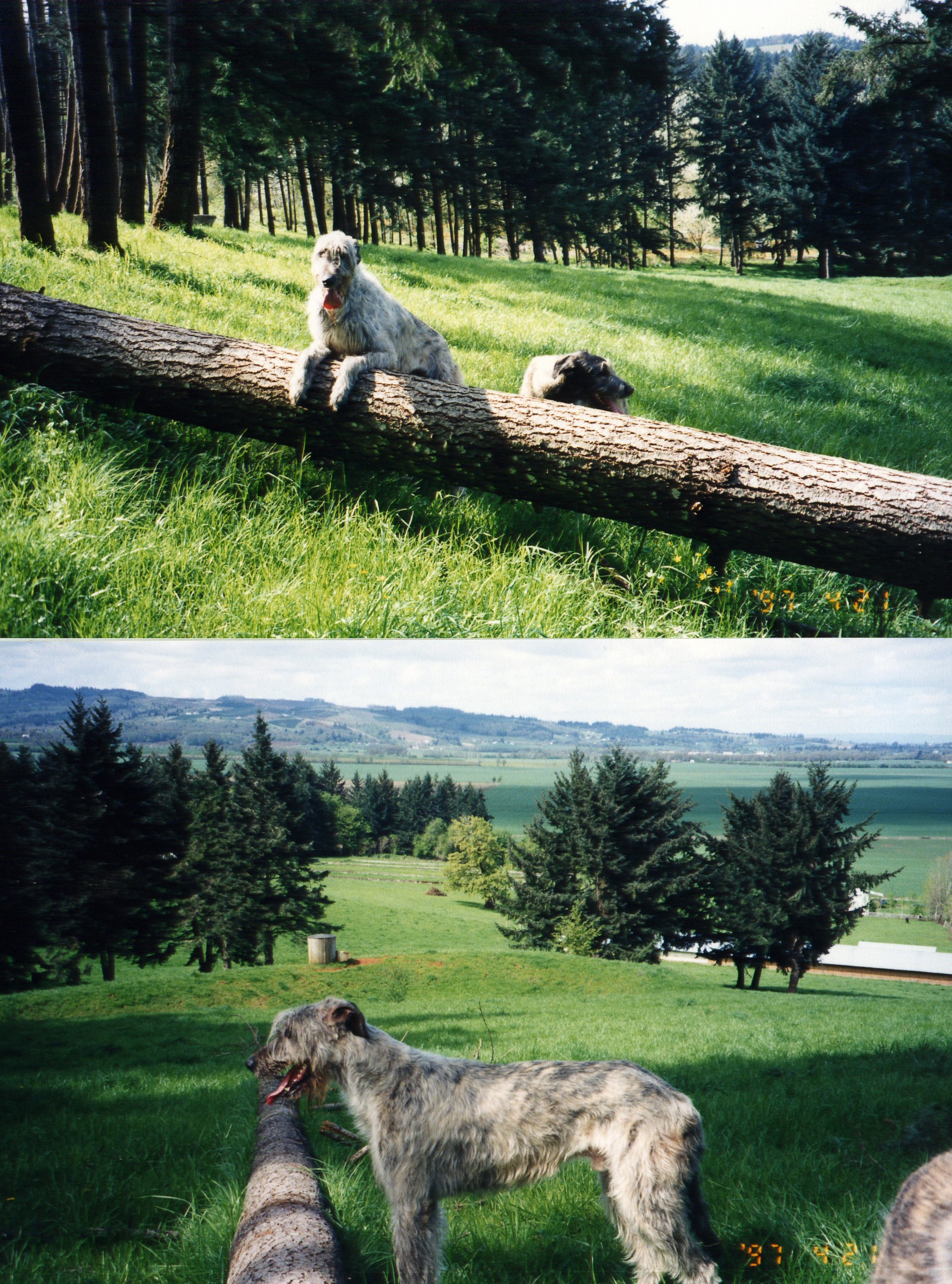 Egan at one Year
"Walk With An Old Dog" -- by Gayl Jokiel
Because you will not be forever,
Hope against time though I may,
I paint your picture in my memory,
Eyes blue with age, muzzle gone gray.
Because you walked with me in Springtime,
Puppy-clumsy, running free.
As you grew, we grew together-
You became a part of me.
Because you shared with me my sorrows,
Not understanding- simply there.
Often spurring me to laughter--
My friend, you know how much I care.
Because the years have slowed your fleetness,
Though your spirit still is strong.
I promise I will take more time now,
So that you can go along.
Because you do not fear the future,
Living only in the now,
I draw strength from your example-
Yet time keeps slipping by somehow.
Because the day will soon be coming
When I will no longer see
You rise to greet me-but in memory
You will always walk with me.
The lovely sturdiness--- the dignity.
And when upon that infinitely dark
And unfamiliar way I, too, must go,
I shall not be afraid---full well I know
These things await me: your triumphant bark--
Rush of impetuous paws in a swift race--
And a warm, eager tongue against my face!