In Memory of
Major Acres Fitzimon of Aoncu
"Fitzgerald"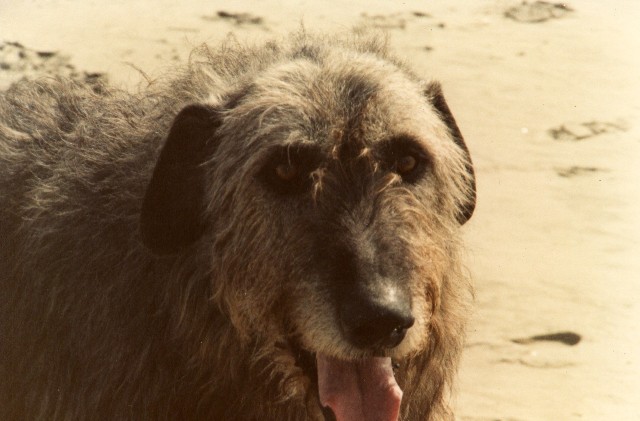 Death arrives among all that sound
like a shoe with no foot in it, like a suit with no man in it,
comes and knocks, using a ring with no stone in it, with no
finger in it,
comes and shouts with no mouth, with no tongue, with no throat.
Nevertheless its steps can be heard
and its clothing makes a hushed sound, like a tree.

—Pablo Neruda, from "Nothing But Death"
Fitz was our first Wolfhound. We called him "Fitzgerald," even though he was registered as Fitzimon. He was given to us when his owner, a veterinarian, could no longer care for him. His front was wired together after an encounter with a car. He came to live with us a year later, at age four. He chose to be our flock guard. My goats pushed a gate open and when I came home, there was Fitz, curled up with my lambs and mothering them. From that point on, he sought out the sheep. The lambs slept with him and he would nuzzle and lick them. They used him as a spring board and he would lie quietly while they used him to play king of the mountain. Fitz was in two plays, "As You Like It" and "The Royal Family." A large hound, Fitzgerald looked massive on the theatre-in-the-round set. He was the hit of both shows. Fitzgerald loved small animals; his two favorites were Garfield, my orange cat, and a big white duck named MacDuck. The three traveled around together and were best buds. He was a special dog.