About our Home, Gwinn-Dell Ranch
About Us
Our home is in the West Hills of Salem, Oregon where we share our lives with a large variety of animals. I started showing dogs as a small child have been involved in breeding and showing dogs since 1959. That's 50 years! Starting with Toy breeds, I got my first Golden Retriever in 1967. I bred and competed with my Goldens for 33 years. Mo-Bee (Sir Mo-Bee-Oh Am/Can UD) and King (Gwinn-Dell's King Midas UD Can CDX W.C.) were the Top Obedience Goldens in the U.S. for 3 years.
My husband Don and I started in Irish Wolfhounds in 1980. We love competing in obedience and we have put obedience titles on our IWs with scores in the 190's. Wolfhounds can work well and earn good scores! One of our Wolfhound champions had 8 titles (Am\Can Champion, UCD, Am\Can CD, CGC, TDI, CRT) and is the only IW to earn a Carting title.
In 2000 I rescued an abused Xoloitzcuintle puppy. We are hooked on this ancient and unique breed!
We show in conformation and have been successful there too. Our Xolos have been top winners. Quetzal is a Multi Best in Show winner, as is Quichica, our young girl. Baalche was the # 1 Xolo in Canada (all sizes),is the first Xolo to win a Group 1 in Canada, and won Specialty Best in Show at the Xoloitzcuintle Club USA National Specialty. Quetzal and Quichica have earned top Xolo of the Year in their Variety and Baalche has also been in the Top ten Xolos in the USA. Our dogs are always owner handled. Recently we began competing in Rally with our Xoloitzcuintle and are really enjoying this venue. They have done well.
Our first love in competing is agility, which we do with our 5 Xoloitzcuintles. Our Border Collie, Laddie, and Golden Retriever, Brady, are both enjoying retirement with an occasional agility run just for fun. The Xolos love agility as much as we do. Quixote has 58 agility titles with more pending. He is the top Xolo in the country. Baalche is up to 22 agility titles. Laddie, Don's Border Collie, has 19 agility titles. Quetzal is starting his agility career and has 2 agility titles. Chica is nearing competition and Tarasco, our young Xolo, is in training.
Our dogs are companions and family members first; show dogs second. Although we are no longer actively breeding, we cherish brains, beauty, temperament, and soundness.
In our non-dog lives, Don retired as a police captain at the Oregon Police Academy after 42 in law enforcement. He is a Forensic Accident Reconstructionist. I retired after teaching high school English for 33 years and now substitute at my school. This allows us to pursue our animal passion full-time.
Along with showing, I teach obedience classes and have also been heavily involved in Dog 4-H since 1966. In addition, I worked as club leader for our county's Guide Dog group for several years. I turned it over to one of my former 4-H puppy raisers who started with me at age nine. Currently, I am President of Xoloitzcuintle Club USA, as well as the registrar for our Xolo club. Animals, especially dogs, are my life and luckily I have a patient husband who shares my love of animals.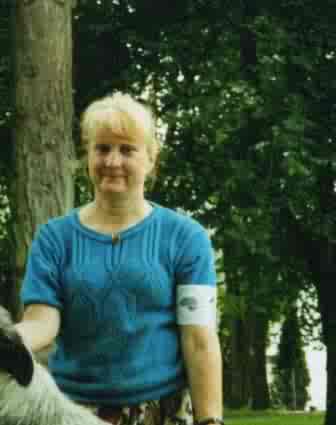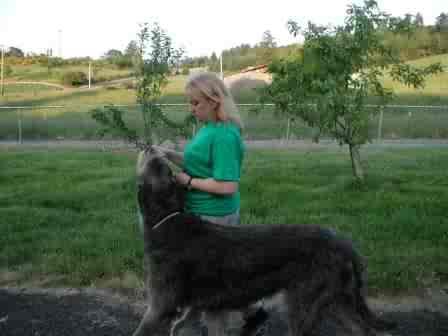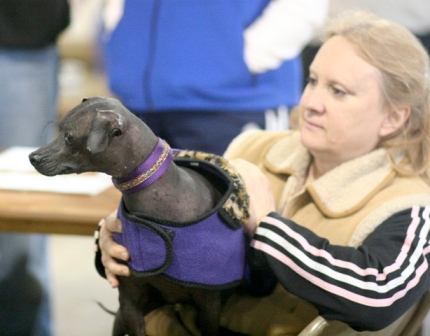 Barbara Barbara & Ceallachan Barbara & Quixote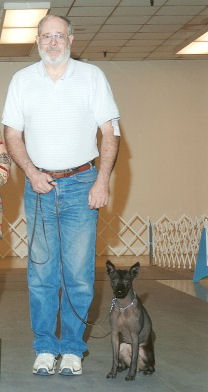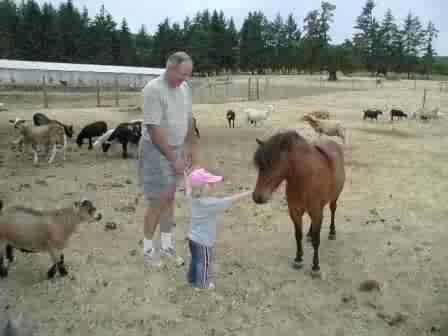 Don Don and Quetzal Don & granddaughter, Isabelle
Our kennel name was chosen when I was a child. Our kennel was named after my childhood home, which we owned from 1963 to 1997. We showed and bred Chihuahuas and we lived on Gwinn Street. From Chihuahuas to Irish Wolfhounds -- hmmmm! A popular stable in the area was Glendale Acres and I modeled our name after it. We chose the name in 1963 and it has represented many dogs since.
About our Home, Gwinn-Dell Ranch